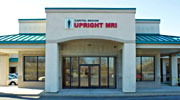 Need Help?
Please call us at
(518) 220-2080
if you have any questions - We're here to help.
About Capital Region Upright MRI

Capital Region Upright MRI was established in June, 2006. The facility is equipped with the UPRIGHT® Multi-Position™ MRI, manufactured by FONAR Corporation in Melville, New York.
Capital Region Upright MRI is actually our "dba" or "doing business as" name. Many insurance carriers know us by our incorporated name, Comprehensive MRI of New York, P.C. For clarification, see insurances.
Comprehensive MRI of New York, P.C. is owned by Robert J. Diamond, M.D.
All of our reading radiologists are board-certified and our facility is accredited by the American College of Radiology (ACR).
We accept MVP, CDPHP, Medicare, Medicaid, Workers' Comp, No-Fault and most other insurances. If a patient's insurance is not on our insurance list, inquire about out-of-network prices. If a patient does not have any insurance, inquire about cash prices.
Hours of Operation
We are open seven days a week, days and evenings.
Mon - Fri: 8:00 a.m. - 11:00 p.m.
Saturday: 8:00 a.m. - 6:00 p.m.
Sunday: 9:00 a.m. - 4:00 p.m.
Appointments outside of regular business hours, including Sundays, are available upon request.
Contacts

Regional Sales Manager: Dom Nuzzo


Director: Ryan Newman

Dr. Diamond-owned Centers
Capital Region Upright MRI, Latham, NY
Comprehensive MRI of White Plains, White Plains, NY
Stand-Up MRI of Bensonhurst P.C., Brooklyn, NY
Stand-Up MRI of East Elmhurst, P.C., East Elmhurst, NY
Stand-Up MRI of East Setauket, East Setauket, NY
Stand-Up MRI of Great Neck, Great Neck, NY
Stand-Up MRI of Islandia, Islandia, NY
Stand-Up MRI of Melville, P.C., Melville, NY
Stand-Up MRI of Staten Island, P.C., Staten Island, NY
Stand-Up MRI of Wantagh, Wantagh, NY
Stand-Up MRI of Yonkers, Yonkers, NY